On the 24th November 2016, in Danang, EuroCham – in collaboration with the EU-Vietnam Business Network (EVBN) & HR2B – hosted the first EuroCham Central Vietnam Business Forum (ECV Business Forum).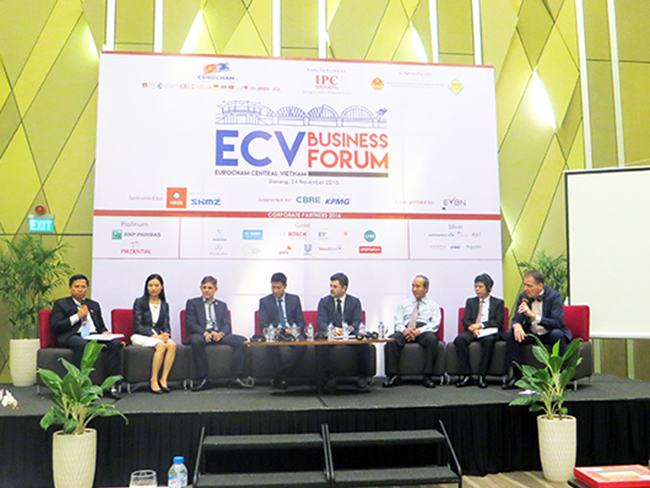 The ECV Business Forum discussed the economics and business opportunities of Danang, Quang Nam and Thua Thien-Hue provinces, in a unique dialogue on the current state of Central Vietnam's business potential.
Experts and officials covered cross-cutting business topics from a site-specific perspective, including investment practices, tax incentives, local talent management, real estate development, among other. It was a one-time opportunity to hear from experts and Government in regards to the current state of Central Vietnam's business potential.
The speakership started with Mr. Hoang Thuy Duong – Partner at KPMG, who focused on an economic outlook for Central Vietnam specifically, as well on tax incentives for businesses and investors in the area.
After a very thorough analysis of the region's economics, the stage was given to the Central region's top investment officials, who spoke about the three provinces. Danang's potential was the first in focus, in a presentation given by Mr. Le Canh Duong – Director of the Danang Investment Promotion Center. Thua Thien Hue was the next province under the spotlight, with the analysis provided by Mr. Le Van Thu – Director of the Investment and Support Center of Thua Thien Hue -; followed by an overview on Quang Nam's investment potential delivered by Mr. Vo Van Hung – Director of the Investment Promotion Center of Quang Nam.
This series of presentations by the invited provincial public officials were followed by Mr. Tom Vovers - General Director of HR2B - who gave an overview of local Human Resources talent management. Following this presentation, Ms. Dung Duong – Director at CBRE – covered the development and outlook Real Estate Development in Central Vietnam.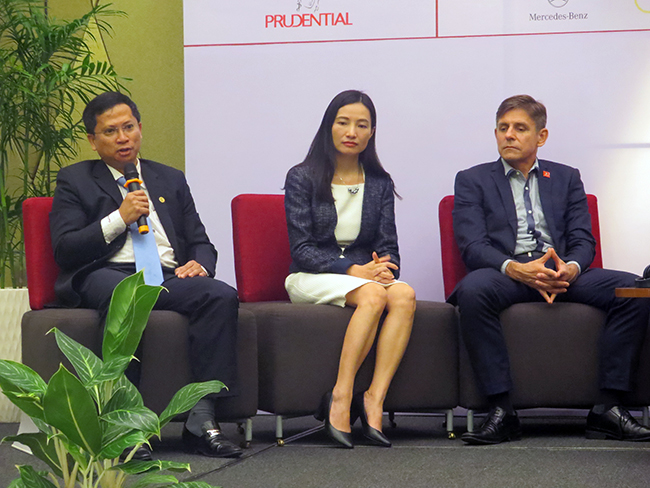 A final panel with all the speakers and Mr. Djordje Makic – Assistant to General Director of SHMZ – closed the discussion before a Networking Lunch took place.
This ECV Business Forum took place at the Novotel Danang Premier Han River and gathered over 70 participants from diverse fields, including business professionals, government officials, media and diplomats.