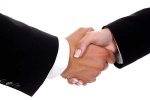 Tuan Nguyen Anh - Senior Project Manager
Cisco Systems Vietnam
Ho Chi Minh
Staffing
16 March, 2016
Personally, I find the services that HR2B provides to me is fairly good.
The people that I am interacting with is gentle, friendly & professional. HR2B understands the difficulties that I am facing & try to be flexible & focusing in getting things done in the most efficient ways.
In overall, I am pretty satisfied with HR2B services & people for the last 6 months. I really appreciate for the support from HR2B.