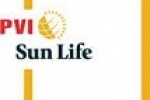 Ms. Võ Hải Anh - Human Resources Division
PVI SUN LIFE INSURANCE COMPANY LIMITED
Ho Chi Minh
Search
27 June, 2016
Mr. Vinh is a passionate head hunter who is always willing to conquer challenge
s
.
He is not only a
very expert in life insurance industry
and also having an extended network in other support services
, he has
supported our Company in the past 2 years with patience and professionalism.
HR2B has been one of the best choices for executive search services for our Company since the beginning. I am very impressed with the customized services and well-depth understanding of the business that makes HR2B different from other headhunters".