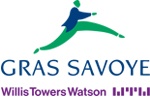 Ms. Nguyen Thu Quynh - Global Business Strategic Associate
Gras Savoyve Willis
Hanoi
Candidate
05 March, 2018
I am writing to let you know that thanks to your service, I have successfully started my work at Gras Savoye Willis today.
The past 2 months of the recruitment process was a lot of hard work for you, and I really appreciated your service. You were very supportive and responsive, which played a crucial part in helping me land this job. You represented and created a professional and positive image of HR2B to me as a Consultant.
On my first day at work, I thus want to send my thanks to you for your support during my application to Gras Savoye Willis. I wish you all the best and let's keep in touch!
Once again thank you and regards,