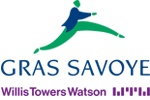 Ms. Nguyen Thi Be - Account Manager
Gras Savoye
Hanoi
Candidate
05 March, 2018
I am writing this email to thanks HR2B and you for supporting me successfully landed the job at Gras Savoye Willis Vietnam as Account Manager. I was very impressive when I was first time sending email to HR2B, my emails was replied and handled at full speed. I would love to express my gratitude to you, anh Trung for all of great supports and professional advices during and after my application process.
Experience with HR2B is one of the best experience that I have had. I will definitely introduce my friends/ contacts who wish to looking for new job opportunity or human resource needs to HR2B.
Wish you and HR2B all the best and Happy New Year!