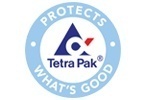 Ms. Nguyen Mai Truc Quyen - Business Support
Tetra Pak
HCMC
Candidate
03 October, 2018
I'm sorry for taking quite long time to say many thanks to you because of the opportunity with TPVN.
I can receive this job it's all because of your professional experience, im so appreciate about that.
Please kindly keep that passionate spirit which will give many good chances to another person!