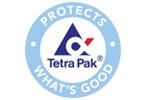 Ms. Luu Thi Yen Tuyet - Tetra Park Vietnam
Tetra Park Vietnam
HCMC
Candidate
02 April, 2018
I would like to send my deeply thanks to you because of your strong support and help for my case. This is my honor to work with you and very appreciated with what you have done.
I received your quick action and respond from you many times. You guided me how to do the best preparation, this is very helpful and help me passed qualified for my interview meeting.
I don't know how to requite your favor and there are no word to show my appreciation. Thank you from bottom of my heart for every thing. I owe you a great deal.
Many thanks again.