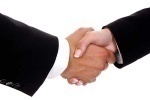 Ms. Dieu Anh - Investment Manager
BBTC Investment Consultant
HCMC
Candidate
27 June, 2018
HR2B is a one of the best headhunter that I've ever worked out. I was very impressed the way Ms.
Chau approached me and she gave some of good advice very useful before meeting an interview with
employers. I would like to thank you so much to HR2B and Ms. Chau who recommended me a good
opportunity which I am working now .
I am very interested in working with Ms. Chau and I would recommend all my friends and
clients to use HR2B professional service in future.