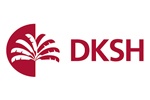 Ms. Dao Ngoc Kim Yen - Payroll Specialist
DKSH
HCMC
Candidate
05 March, 2018
Dear Ms. Tam,
First, I would like to thank you very much for your co-operation while we are working.
From my side, I think HR2B service is good, especially from you. You are very smart and intelligent when you approach me by clear email. I am also feeling take care while you always keep warm-up every week and quickly update news.
I think you and your team keep moving forward and take care candidate like you treat me, the business will grow up more.
If you have any more detail or information, please feel free to contact me.
Thanks a lot, Ms. Tam