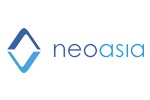 Mr. Ho Vu Thanh Hai - Med Rep
Neo Asia
HCMC
Candidate
03 October, 2018
Dear Long,

My name is Ho Vu Thanh Hai, today I write this letter for thanking you and your Company to find a suitable job with my qualifications, expertise and skills.

Although I only work with you via phone and email, I appreciate you a great, ardor and meticulous consultant and above all, you always support me during 2 interviews at Neo Asia representative office. I believe in the future you will be very successful and go further.

I wish you and your Company more and more success and development.
Thank you very much.