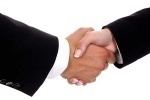 Mr. Dang Thai Son - Quantity Surveyor Manager
TAP Hospitality Saigon
Ho Chi Minh
Candidate
29 June, 2016
I am impressed by HR2B services at:
+ The Search Specialist: enthusiastic, professional and devoted in understanding not only candidates but the employers.
+ About HR2B: Having a large scale of candidate database.
Thank you HR2B for giving me the opportunity to work in the environment that fits my expertise.
Best Regards