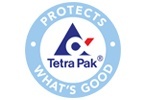 Mr. Bui Anh Duc - Maintenance Engineer
Tetra Pak Vietnam
HCMC
Candidate
02/04/2018
Firstly, I must say thank again for your introduction this position. It came to me naturally and a little lucky which you introduced it to me.
This job is very fitted with my characteris and my career liability which i had a similar job. But I had wrong decision before I worked at previous company.
With your kind supports, I found right way again and feel quite excited when working with this position.
Secondly, your sincerely supports were made me feel we was friend before, not a stranger. Keep going and suport the others, candidates find right job, companies find right employee then we are growing up.