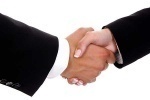 Long (Leon) - Executive Assistant to CEO
Fashion Garment
Ho Chi Minh
Candidate
22 May, 2017
I am pleased to write this testimonial to the HR2B Consultant, especially Ms Diệu who helped me find a position in a famous manufacturing industry FGL successfully.
I especially appreciate your great supports, fast responses, transparent communication, and coordination in a timely and efficient manner. Ms Diệu is a responsible consultant, often going the extra mile and rendering her services even after her office hours. She is friendly, approachable, helpful and patient, and she demonstrates professionalism and passion in her work. Her personal touch has gained my trust, and respect.
Once again, I would like to express my warmest thank you for your all support and wish you with HR2B more and more successes in the future.