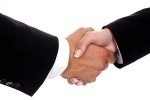 Hung Nguyen - Application Business Manager
Bowker​
Ho Chi Minh
Candidate
18 July, 2017
About the information: communicate with candidate what client wants clearly.
About following up: good discussion between candidate and client to get the best deal within short time.
About supporting: enthusiastic support candidate dealing with client for best budget and benefits
Thank you Tam for supporting me during last time. Wish you always get the successfulness.