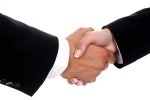 Dang Thi An - Sales Analyst
DHL Ecommerce
Ho Chi Minh
Candidate
03 July, 2017
Today I'm writing email to say thanks to you due to your continuous support to me by phone-call during the time of my two months probation. You took care of me as well as you did with others, didn't you? :)

I have not felt annoyed with my new job as a Sales Analyst in this new environment, the colleague are quite good & friendly. My job is really interested with the realistic reports although I only worked in the office, not going around. It makes me quite busy all the times, but I love it, no things is easy, I have learnt a lot of new skills as well as further improved my experience.

Once again say thanks & be grateful to you. Appreciate it as much truly.
Beloved supporter ever, good luck to you & your company, wish it will be developed more & more now, and in the future.