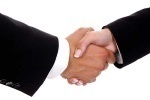 Allen Poon - Assistance Team Leader.
Apptitude
Singapore
Search
26 May, 2016
I am writing to update you on the excellent effort from Mr Tri on his commitment, deep meticulous attention and focus in finding our needs to our talent search requirements.
To date, we have confirmed 2 candidates from HR2B, namely;
i) Assistance Team Leader.
ii) iOS/Android Developer.
However; the other open positions to be filled is still far. Do keep up with the good work; HR2B, Ms Vu and Mr Tri!
Sincerely look forward to our long term business partnership together. Thank you.