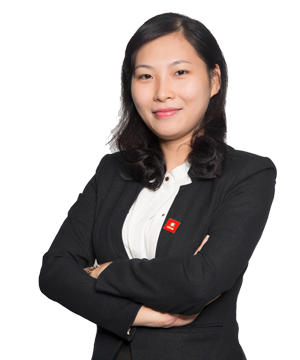 English & French Translation & Interpretation, Hanoi University, 2008
Today as Hanoi Branch Manager of HR2B, Ha leads passionate, high-performing teams that create tangible business for their clients and candidates. A natural coach, Ha values building ongoing relationships and dynamic business development. Promoted to Hanoi Branch Manager at the beginning of 2017, Ha productively manages all teams in multiple practice areas, including Banking, Finance, Trading Services, FMCG, ICT, Manufacturing and Industrial Services. Besides, Payroll and Staffing teams in Hanoi are also under her operation.
Ha's steady leadership has cultivated over 3 years of advancement, Certificate of Crestcom Bullet Proof Managers Training - and achievement for many candidates and companies she has served. Promoted to Executive Search & Selection Manager of Banking, Finance & FMCG Team in 2015, Ha has managed a strong team toward a resolute commitment to providing client world class hunting service.
Instrumental in developing HR2B's industry-leading services, Ha's passion for the recruiting industry remains evident. Committed to driving superior results through rigorous industry research, market analysis, and ongoing communication with clients and candidates, HR2B is defining excellence in Executive Search and Selection. Ha is motivated to ensure that all HR2Bers in Hanoi Office manage themselves, their clients, and their candidates with the utmost professionalism, integrity, and dedication to deliver valuable results.
Since her starting Headhunt career path as a Recruitment Consultant, Ha has earned numerous distinctions and awards during her tenure, including Top Performer, Biggest Placement, Most Dedicated Manager, Most Improvement Manager.
HR2B is a professional services firm focussing on Human Resources management in Vietnam. The combined experience and expertise of our management and staff brings high value added service to our customers, who are usually leaders in their industry.
← Team