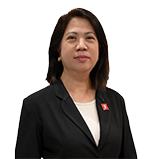 Bachelor Of Chemical - Polytechnic University (1992)
CEO Master at FMIT (2012)
Consulting expertise
Mrs. Hoa is Senior Manager of HR2B Executive Search, managing Executive Search & Selection in South Vietnam.
Mrs. Hoa has more than 27 years of working experience at MNCs and local companies in different roles: 8 years with P&G in production department and then HR services; 3 years with Nestle in Planning and Supply Chain management role; 5 years with First Alliances as Recruitment Manager – leading the biggest team of the company; and 10 years managing Career Planning as her own business in the same headhunting business.
In more than 16 years in recruitment, Mrs. Hoa had done a good number of C-suite level searches, covering all industries/sectors and with focus on Industrial, professional services and FMCG. Besides, she is also an advisor to clients on organizational restructuring and C&B. She is also a trainer, providing training courses in Recruitment skills and HR-related subjects for both clients and the staffs in her previous companies
HR2B is a professional services firm focussing on Human Resources management in Vietnam. The combined experience and expertise of our management and staff brings high value added service to our customers, who are usually leaders in their industry.
← Team